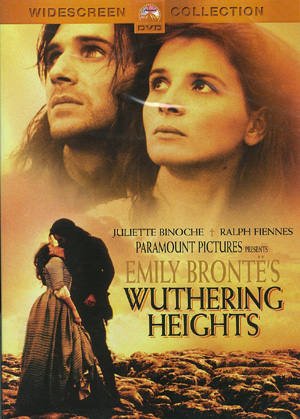 I do not consider myself a contest junkie. I don't even consider myself on the contest circuit, but I entered a few this year and got some constructive and encouraging feedback even if the judges' missed my genius, and I didn't final. But my delusions of genius aside, one comment stuck with me. More than once, a judge commented that my hero didn't have enough clear motivation for his action
s. He really wasn't tortured enough for his current behavior. Hmmm. Another judge suggested I think of a couple of my recent reads that featured a tortured hero and analyze how and when the author revealed the character's motivation. Where to begin? Many of my favorite reads feature angsty heroes. One of my all time faves,
Wuthering Heights,
comes to mind first. Poor, poor Heathcliff was as tortured as they come, and when I first read it years ago, I remember feeling his pain so deeply and reacting with intensely strong emotion (I cried). And although I've never seen this version of the movie, I can imagine it was well cast. Ralph Fiennes plays a great, tortured hero.
But more recently, I have gotten into Kresley Cole's Immortal After Dark series. She does a great job of creating a tortured Alpha male. I could list many from this series alone. One of my favorites is Bowen MacRieve from
Wicked Deeds on a Winter's Night
. Ms. Cole creates major angst for Bowen, a werewolf who believes he unintentionally caused the death of his one true mate, and just when he has the opportunity to go back and undo it, he encounters an irresistable witch who impossibly evokes his mating instinct, causing intense guilt. I don't want to spoil it for any who haven't read it, but let's just say, I fell in love with Bowen and wanted to be the one to ease his torment.
To me Hugh Jackman makes the perfect Bowen MacRieve.
Of course, T. V. shows and movies are loaded with tortured heroes. Take your pick:
So, what do these gorgeous (ahem), I mean, troubled men have that we find irresistible? Is it the fact that they are in so much pain that draws us? Maybe we have what it takes to fix them? Maybe we'd just like to try? It's possible, but I think it's their resiliency that attracts us as well. They are modern-day warriors. They take a lickin' and keep on tickin'. These men are worthy of the strong heroine, and they can work through anything that comes their way without caving under the pressure.
Now, if you will excuse me, I have a hero who hasn't hurt enough. *sound of knuckles cracking* Let the torture begin.
How about you? Which tortured heroes have stuck with you long after you closed the book?
Happy writing!